The area between Burgas and the Turkish border looks back on a remarkably long history: chalcolithic settlements, Thracian megalith culture, the ancient Odrysian kingdom... However, centuries of Ottoman usurpation, decades of confrontation between WP and NATO and a dictator regarding the forests as his private hunting residence made the world forget about the existence of this beautiful area. But meanwhile, we are in the lucky situation to re-discover the nature of this adorable corner of Europe. With Eastern European, Pontic and Mediterranean influences coming together, there can be found a striking biodiversity within this rather small area – perfect for herping!
This was a men's trip, actually, with Peter meeting Niklas Banowski and Sebastian Dörnemann, two biologists with excellent herpetofauna expertise. Thanks guys, for the great company – it was real fun! Based at Primorsko, we focused on three areas: the wetlands south of Burgas, the coast between Sozopol and Primorsko and the Strandzha hills.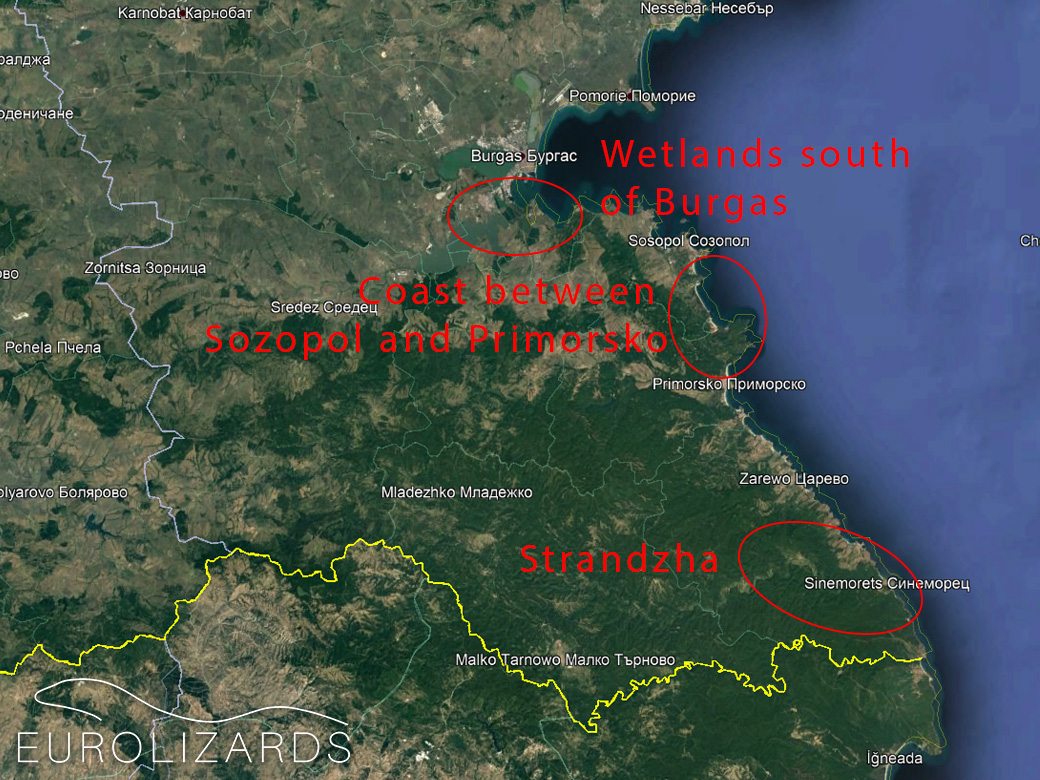 The plains south of Burgas show a mosaic of lagoons and sweet water lakes separated by dams. This semi-aquatic area is habitat for reptiles strongly affiliated to water like the two Natrix species (Grass Snake and Dice Snake) as well as for thermophilic species like Lacerta diplochondrodes (Balkan Green Lizard). However, searching for Lacerta diplochondrodes in autumn turned out quite challenging as these shy lizards where hiding in the bushes most of the time. Anyhow, strolling through this hot and open landscape, always with the silhouette of Burgas city in sight, was awesome. And although autumn is not the best time for herping, we were quite successful finding several Vipera ammodytes (Nose-horned Viper) and an adult Elaphe sauromates (Blotched snake).
The coast south of Sozopol consists of dune areas interrupted by rocky cliffs and hills with sub-Mediterranean forests. Luckily, substantial parts of this area have been classified as nature reserves: unspoiled landscapes, only few tourist hotels and holiday homes along the beaches. The variation of different habitats on a small scale generates a high biodiversity – quite productive for herping!
The beautiful areas at Beglik Tash and the Ropotamo river are habitat of numerous reptile species with three Lacertids: the omnipresent Lacerta viridis (Eastern Green Lizard), Podarcis muralis (Common Wall Lizard) and Podarcis tauricus (Balkan Wall Lizard). Despite of the late summer drought a lot of reptiles were active. A highlight of this trip was the record of Platyceps collaris (Rheddish Whip Snake) which has a very limited European distribution range.
Although the extensive dunes and adjoining coastal lagoons are mosquito paradise, this did not prevent us from herping – and it was worth it: The most common reptile along the coast was Podarcis tauricus, which seems to love the sandy soil and sparse vegetation. Other reptiles seen were Natrix natrix (Grass Snake), Malpolon insignitus (Eastern Montpellier Snake) and Testudo graeca (Spur-tighed Tortoise).
Road cruising at night is a rather strange idea as everybody knowns there is no lizard activity out there in the darkness. However, Niklas and Sebastian loved the idea of cruising on coastal roads to search for amphibians. Admittedly – we came across of plenty of these slicky critters. In particular, after some thunderstones, the anurans celebrated the humidity.
The south-easternmost part of Bulgaria with its smooth hills and lonely forests is very sparsely populated. The higher and more humid altitudes show remarkable Euxinian mixed forests with Oriental beech (Fagus orientalis) and rhododendron scrubs (Rhododendron ponticum). Here, Darevskia praticola (Meadow Lizard) can be found, a species which is not very rare, presumably, but quite secretive: We found numerous of them basking in the morning but soon they disappeared in the leaf litter. Other reptiles where found in wood clearings and river valleys, e.g. Testudo hermanni (Hermann's Tortoise), Dolichophis caspius (Caspian Whip Snake), Vipera ammodytes. We actually explored only a tiny bit of this huge area. Anyhow, it was amazing to discover such unexploited nature areas in Europe – hopefully, the status of Strandzha as a Natural Park will be preserved.
Bulgaria is a beautiful country with friendly people, safe for travelling and still a lot to discover. As we only saw the south-eastern part, plenty of interesting places remain to be visited. Hopefully, this was not our last trip to the eastern Balkans!