In autumn 2016, 2017 & 2018 we had the opportunity for some visits in South-eastern Spain. Although fall may be not the perfect season for reptiles, we had some splendid time there: The late summer drought in combination with the hard lateral light created a somehow magic atmosphere. The Baetic Mountain Range is an area of extreme contrasts. From deserts to large pine forests and cold and windy plateaus: We saw all of this during our journeys. This report is less a systematic documentation but rather an album of our impressions. The result is a quite personal compilation – enjoy!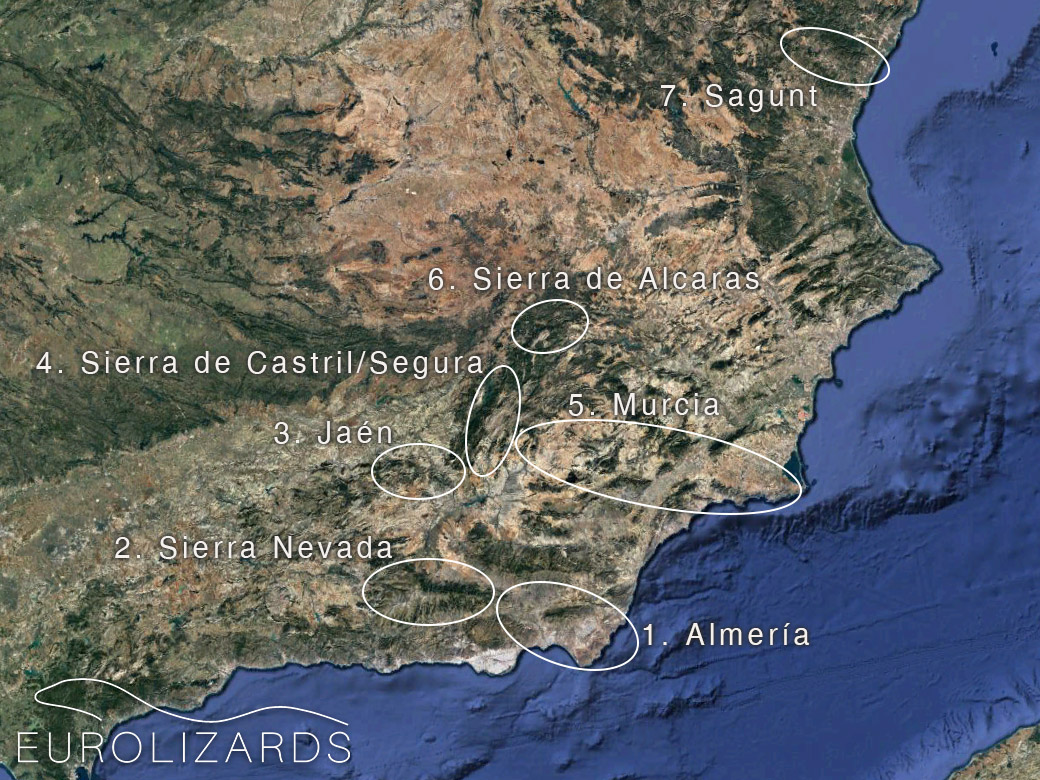 1. Province Almería
The Almería province has some of the driest areas in Europe. With Sierra Nevada in the north-west, very little rain reaches the coast. This is particularly apparent in the Parque Natural del Cabo de Gata with its bare coastal hills of volcanic origin. But we had fortune: Obviously, there had been some rainfall before our visit and there was plenty of lizard activity. Also in the nearby Desierto de Tabernas, despite of the desolate and hostile landscape, we were lucky enough for numerous lizard encounters.
2. Province Granada – Sierra Nevada
The Sierra Nevada in the Granada Province is the highest mountain range of the Iberian Peninsula with some peaks of more than 3000 m altitude which are still snow capped in autumn. As these mountains aren't very steep, they appear less high as they actually are – until you start hiking… The Sierra Nevada skiing slopes are inhabited by some interesting lizards which occur up to altitudes above 2000 meters. Although it was quite cold up there, there was still lizard activity. In these mountains, Podarcis vaucheri (Andalusian Wall Lizard), Podarcis hispanicus and Podarcis liolepis (Catalonian Wall Lizard) can be found, and sometimes it may be hard to distinguish between them.
3. Province Jaén
The western part of the Jaén Province is an agricultural landscape with some isolated mountain ranges waiting to get explored. One of them is the Sierra Mágina with the Peña de Jaén of 2100 m altitude. A lonely mountainscape with beautiful stone oaks. Some thirty kilometres east, another mountain range, the Sierra de Cazorla, bears some treasures like the endemic Algyroides marchi (Spanish Algyroides). Here the Guadalquivir – the big Andalusian stream – has its source. The Nacimiento del Río Guadalquivir is some national shrine for the Andalucians being highly frequented by flamenco groups on weekends. During the week, it is a silent place with plenty of lizards and an enchanting scenery.
4. Sierra de Castril and Sierra de Segura
East of Sierra de Cazorla, the pre-Baetic Mountain Ranges continue with the Sierra de Castril and Sierra de Segura. In the deep Río Castril valley we wanted to search for Algyroides marchi but upcoming rain spoiled this. In the Sierra de Segura we were lucky: Apart from the mentioned species we found plenty of other lizards in the remote area of the Río Segura headwaters. These mountains are covered with endless pine forests – the Bosques del Sur: A green landscape which appears almost mislocated in arid Andalucia. These ancient forests could be the definition of silence.
5. Province Murcia
The western part of the Murcia Province consists of sparsely populated windy plateaus. A rough and bare but fascinating landscape. Further east, the isolated massif of Sierra Espuña is worth a visit: On the peak area, there are several "Pozos de la Nieve": stone buildings in which people collected snow in winter to sell it later on in towns and harbours – a pre-refrigerator industry. This area has an interesting herpetofauna and the mountain peaks are inhabited by Timon nevadensis (Sierra Nevada Ocellated Lizard). We also had a short stay at the coast east of Cartagena with its beautiful beach areas full of Acanthodactylus erythrurus.
6. Province Albacete – Sierra de Alcaras
Back to the mountains: The Albacete Province has a rather bad reputation due to its monotonous agricultural landscapes. However, in the southern part there are some nice mountain areas. Particularly the mountains north of Riópar – the Sierra de Alcaras – are a laid-back place and poorly researched. Further south, the Parque Natural de Los Calares del Mundo y de la Sima with its famous Río Mundo river source attracts numerous weekend tourists, but also there, you will find plenty of forgotten corners with beautiful nature.
7. Epiloque: Northern Valencia
We had a final coastal stay in the Sagunt area north of Valencia. But despite of the agreeable beach life, we couldn't but go back to the mountains. In the hills north of Chóvar with their beautiful stone oaks we had some nice final encounters with the local herpetofauna – a nice farewell... Travelling through the mountains in southeastern Spain is highly addictive – we definitely have to come back again.